We are your local Mona Vale plumbers offering fast and reliable service to Northern Beaches residents.
Call North Beachside Plumbing for all your plumbing repairs and emergency service, 7 days. Andrew is your local plumber servicing Mona Vale, Pittwater and the entire Northern Beaches.
Emergency Mona Vale after hours plumber
Andrew has an extensive knowledge of common local Beacon Hill plumbing issues- such as high water pressure problems and the need for pressure reduction valves on some properties. He is available for emergency repairs 7 days a week.
He will promptly and efficiently complete all jobs – big or small – from changing tap washers to plumbing for a Mona Vale kitchen or bathroom renovation.
North Beachside Plumbing provides complete plumbing service for Mona Vale residents and businesses and can undertake all your residential and commercial plumbing repairs and maintenance work.
Andrew can install gas fittings for BBQ's and heating systems, repair and replace hot and cold water pipework, install and replace hot water systems and replacement, unblocked drains, supply and install rainwater tanks and undertake all your general maintenance and emergency Mona Vale plumbing repairs.
North Beachside Plumbing can provide an upfront price over the phone for all your home maintenance plumbing requirements. You can expect a competitive price, prompt, professional service and quality workmanship. No job is too big or too small.
All your Mona Vale plumbing requirements covered
Backflow, pressure and thermostatic valves
Environmentally friendly plumbing conversions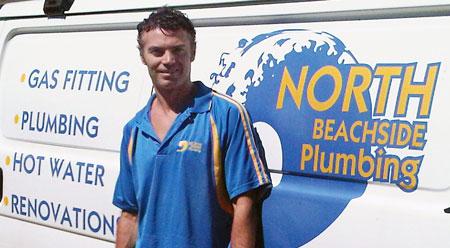 Andrew, your local Mona Vale plumber